UMMD Corona Test Center
Dear patients
Dear colleagues
Dear citizens,
Since 11.05.2021, you have the possibility to be tested for SARS-CoV-2 directly on the campus of the University Medical Center Magdeburg.
We would like to provide you with the most important information on the benefits and application of the test as well as how to get there.
You do not need an appointment, but please bring your driver's license, passport, ID card or a comparable proof of identity. At the entrances to the campus of the University Medical Center at Leipziger Straße 44, you will be given a pass to the Coronatest Center, which also includes a map of the area. The result and a written report will be given to you directly afterwards. You do not need to register online, a smartphone or app is not required.
Brief information on the rapid antigen test
The University Medical Center has offered free testing facilities since shortly before Christmas for the detection of SARS-CoV-2 almost continuously; which have been very well accepted by the population and have allowed early detections of chains of infection in many cases. University Medicine uses an extensively tested and Paul Ehrlich Institute approved rapid antigen test for this purpose.
The swabs and the tests are performed by trained personnel of the University Medical Center. Thus, a five-digit number of examinations can already be performed, approx. 1-2% yielded a positive result, almost without exception these results were confirmed in the PCR examination. This is also initiated directly on site; and if needed, further consultation is also provided. At the center, you also have the opportunity to ask questions. Of course, positive test results are reported to the public health department, as required by the Infection Protection Act, so that measures can be taken to protect the population.
The personal data of the citizens* will be processed in compliance with data protection and regulatory requirements. Funding is provided in accordance with current legislative requirements, without restricting resources at the University Medical Center.
Aim: A straightforward Test
Our goal is to offer everyone the antigen rapid testing, so please come by without an appointment. However, you are welcome to make an appointment, please use the appointment calendar linked here. And we will make sure that your stay will be as short as possible. After taking the smear test, it takes about 20-25 minutes to get the test result.
Antigen tests help to detect infectious persons and thus to avoid possible transmission situations. Nevertheless: no test can detect every infection. Therefore, please observe the AHA rules (distance, hygiene, everyday mask) even in the presence of a negative test and continue to limit your contacts to the necessary extent. AHA-Regeln (distance, hygiene, everyday mask) even in the presence of a negative test and continue to limit your contacts to what is necessary.
Note on the examination of children: In principle, we also try to allow testing of children, but in some situations it is not possible to perform a deep nasal swab. Volatile swabs in the anterior nasal region can lead to frequent false negative test results. We ask for your understanding should it not be possible to perform a test in the respective situation. Children under the age of 14 can only be tested if they are accompanied by an adult. In any case, a person under the age must have the consent of a parent or guardian to the test (if necessary, a written declaration must be provided).
The most common symptoms are:
Fever over 38 °C
Cough, cold
Headache and pain in the limbs
Fatigue
Scratchy throat
Temporary loss of sense of smell and taste
Some people may get pneumonia with shortness of breath
You should notify your health care provider if you feel that you are having a harder time breathing than usual.
For more information, please contact the official site at zusammengegencorona.de.
Here NO vaccination against COVID-19
Important: Vaccinations against COVID-19 do NOT take place at the UMMD Coronary Care Center.
People who are eligible for vaccination, please visitwww.impfterminservice.de/impftermine and reserve your appointment. If you are unsure, please ask your family doctor or call the 116/117 hotline.
Directions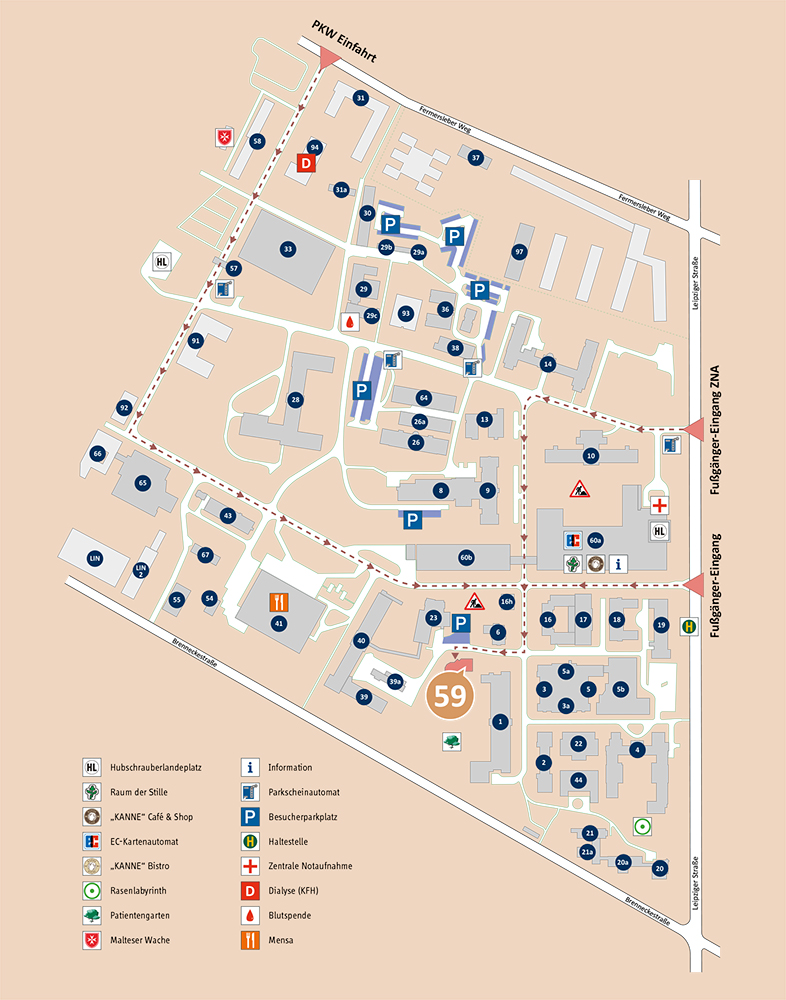 Address:
UMMD Coronatestzentrum (Corona Test Center)
Haus 59 (Kanne Café; ehem. Mobitz)
Leipziger Straße 44, 39120 Magdeburg