Careers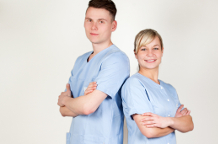 Network of possibilities
Welcome to our team as an employee or as a trainee/apprentice.
more...
Campus Maps

Orientation of the Campus
You can find our interactive map of every building and clinic here.
News
The following hygiene measures apply on the premises of Magdeburg University Medical Center:
Completion of a pre-triage sheet
Wearing an FFP2 mask at all times in all indoor areas
Hand disinfection before entering as well as when leaving the indoor areas
Compliance with the minimum distance of 1.5 m
22.01.2020 -
On Monday, January 20, the new HAE05 ward was opened in house 40, level 2, of the Department of Hematology and Oncology at the University Medical Center Magdeburg under the direction of Prof. Dr. Thomas Fischer.